1. The initial joy of buying your first Land Rover.
Nothing feels quite as good as going out and buying your first Land Rover. Or, if you're lucky, being given a Land Rover as a Birthday, Graduation, or Christmas gift. You are over the moon, king of the road, and enjoy staring down at all the peasants around you as you feel like a monster in charge of the road ahead. The motorway is blocked? You're in a 4×4! You laugh as you veer off the highway and take the nearest green lane to reach your destination, thoroughly satisfied you own the coolest car on the road.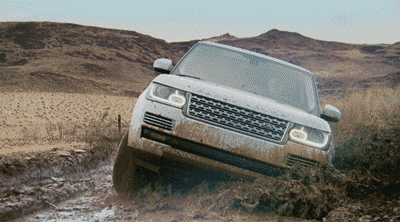 2. Pride over your model of Land Rover
You start to notice more and more Land Rovers on the road around you. If you own a Defender, you start to look down on Discovery. As a Discovery owner, you start to look down on Freelanders. You join all manner of Facebook groups and brag about how your motor is the best vehicle ever made.
3. You start to kit it out
You find yourself scrolling through the Britcar website late at night. Chequer plates? You go crazy and put them all over the car. Stickers to announce your allegiance to your LR club and favourite parts shop (Britcar obviously)? Tick – you cover the back window with them. You want your Land Rover to be unique and the envy of your Landy friends. You tell yourself if you do a good enough job, you'll look just like James Bond – cool, collected, and ready to crush whatever comes in your path.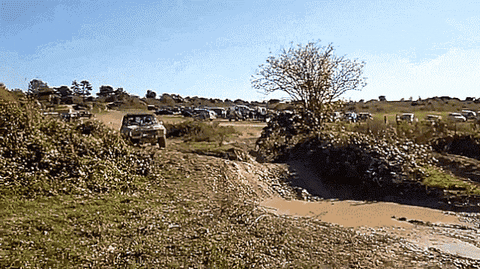 4. Things start to go wrong…
As you drive along, you hear a strange knocking noise coming from somewhere in the engine. You pop the hood, stare inside, and ponder what it could be. Grabbing a hammer, you poke around, knock on some bits, and try to figure if anything has come loose that could be simply bashed back into place. Setting off again, a mere moment later you find that you have rattled to a stop on the highway and have to call the RAC for the first time. You're embarrassed but it must be because you lack mechanical knowledge. There's obviously nothing wrong with the car, at least that's what you tell yourself.
5. Your first trip to the garage
"That'll cost you £650", the mechanic informs you. You have a heart attack at how much that tiny noise will set you back. "See, we have to take apart half of the car and that part of your engine in your Freelander is notoriously hard to reach… sorry". You sigh, and reluctantly hand over the money. You're secretly starting to have some doubts about whether it's worth it but you don't tell your friends about this because you don't want them to think any less of your baby. "Of course, it's worth it, have you seen this beast?" You gingerly reply.
6. First trip out of the garage….
Happy to have your Land Rover back in your life, you cruise out of the garage, wind the windows down, and set off to find adventure. You're giddy and over-the-moon to be back in charge of the road. That Ford Fiesta you had to borrow from your daughter just wasn't cutting it. 5 minutes later, that noise they fixed? It's come creeping back…. You break down and cry into your hands, return to the garage, and after another £100, you've left and it's finally back to normal.
7. The fever sets in
Ah yes, the open road once more. "Wait a minute, what's that?" you say, nudging your partner sat in the passenger seat. "Is that a Land Rover for sale over there??" It's £600 with no clutch, propshaft and no rear window? A bargain! You'll be able to fix it up on the cheap in no time. Despite all the problems you've just had with your own Land Rover, you go over the dealer, bargain, and somehow still manage to pay £650 but smile knowing he included a jerry can 'for free'. Classic.
What can we say! Land Rovers, they give you hell, keep burning a hole in your pocket, and make you want to tear your hair out half the time, but we wouldn't have it any other way!
Share this if you love your Land Rover come hell or high water.